Underachieving
For a man who earned the nickname "Baby Fed", Grigor Dimitrov has had surprisingly un-Federer-like results. Dimitrov was long expected to spearhead the next generation to take over from the "Big 4" of Federer, Nadal, Djokovic and Murray. Needless to say, things haven't exactly gone to plan. First the Big 4 seemingly found tennis' version of the Fountain of Youth, winning grand slams well past the point where previous generations of greats had retired. And then there was Dimitrov himself – occasionally brilliant play sandwiched between stretches of inconsistency.
Then last Summer, everything changed. Dumped from Wimbledon in the fourth round by Steve Johnson, Dimitrov set up a meeting with Dani Vallverdu. The Venezuelan agreed to take on the role of coach, and while the rest may not yet be history, it certainly seems to be headed in that direction. Since then Dimitrov has climbed from 40th in the rankings to #13. More impressive has been the way he's started 2017. First there are the two tournament victories (Brisbane and Sofia). Then there's the incredible run at the Australian Open that saw him likely a single point away from beating Nadal in an epic five-set semi-final.
While it is very easy to talk about desire and motivation, those things do not win tennis matches. Good tennis does. So what has functionally changed about Dimitrov's game that has seen him take this massive step forward in his career? And is it here to stay?
A Sense Of Purpose
Vallverdu and Dimitrov have both spent time talking about "identity" in interviews since they began their partnership. It is such a big part of their narrative because it is central to the increased success we are seeing from Dimitrov today. His improvement on the court isn't happenstance. It also isn't a result of supreme fitness, or technique changes. It is almost entirely due to Dimitrov's clearer understanding of himself as a player – his more clearly defined identity.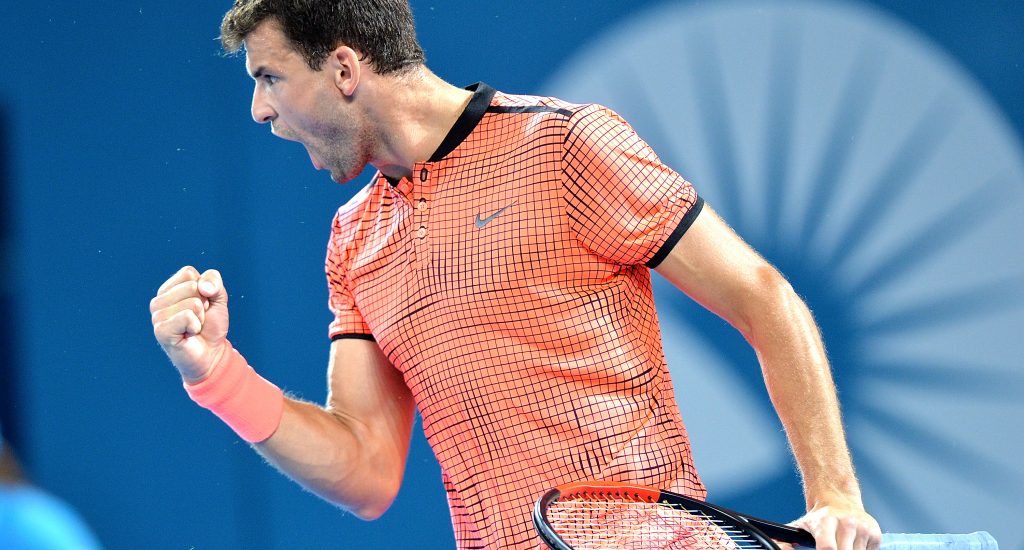 Dimitrov has long had the tools to be highly successful at the top of the game. He has a booming serve, power off both sides and athleticism that is nearly unrivaled on the tour. However his matches have always lacked structure. To say Dimitrov was playing without a Plan B is almost giving him too much credit – most times it did not even appear as though he had a Plan A. He was, to put it bluntly, out there hitting tennis balls while his opponents were actually playing points. His technical proficiency and athleticism were enough to beat many opponents. But they were not enough for him to get consistent success against top level players with a clear plan.
What We Learned In Brisbane
In 2017 Dimitrov takes the court with a clear understanding of how he is going to win points. And perhaps more importantly, he is adapting this understanding with each specific opponent.
Nowhere was this more obvious than in during his title run in Brisbane where he had three consecutive wins over Top-10 ranked opponents. More importantly, those three opponents had wildly differing playstyles, and we saw Dimitrov play each differently. Some of these differences were subtle, but today we will focus on the changes he made between the matches against Raonic and Nishikori. In Milos Dimitrov played a huge-serving, big forehanded smash and grab player. Kei represents a very different type of challenge with his lower-powered yet complete game and impressive foot-speed.
What was especially noteworthy was just how Dimitrov adapted to his opponents while keeping the core tenets of his playing style intact.
Dimitrov vs Raonic
At this point the challenge Milos Raonic represents to any player is well known and documented. Indeed we wrote an article about his particular playing style here back in 2013. Raonic uses his serve (undeniably one of the best in the history of the sport) to set up a big forehand. Milos has worked hard to round his game out since the 2013 article, and is a more complete player in 2017. Raonic's backhand has improved, as have his returns and net game.
Grigor came to the match recognizing that Milos would inevitably begin most of his own service points with the initiative. Contrary to years past, Dimitrov used his slice backhand effectively and with purpose in several different ways to help neutralize Milos, and then set up his own attacking play.
Using The Slice Backhand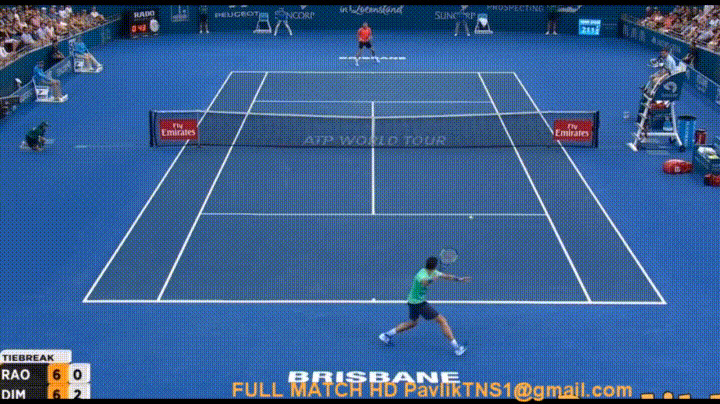 This point shows us beautifully one of Dimitrov's key patterns in this match. Raonic is hitting powerful forehands into Dimitrov's backhand corner. Rather than power the ball back, Dimitrov uses the deep slice to neutralize Raonic's power, and lures the big man out of position. Grigor then plays the slice down the line as an approach shot and draws the error. There is a maturity to this point that was missing from Dimitrov at this time last year.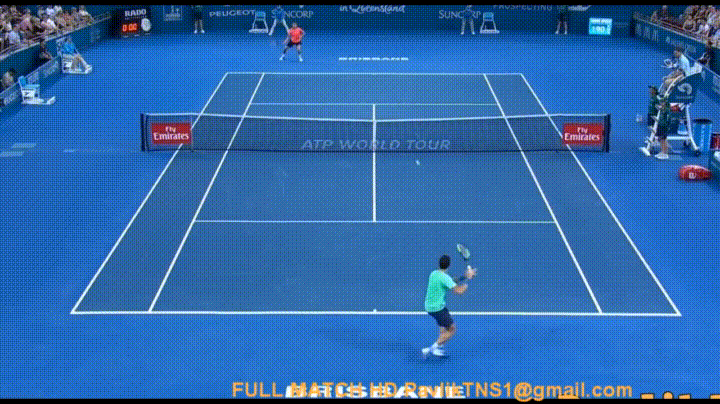 Here Dimitrov uses the same slice to set up an more offensive ball. Again Grigor pulls Raonic out of position, luring Milos into an inside-out forehand that is just a little too wide and deep for the Canadian to impose himself. Dimitrov then steps in and drives the down-the-line backhand winner. There is an intelligence and design to these patterns that is new to Dimitrov's play. First they show an understanding of Milos's tendencies, in this case his desire to run around his backhand and control play with the forehand. Dimitrov then uses this knowledge to expose Milos's specific weakness – his movement. Small wonder Dimitrov won the match 7-6, 6-2.
Dimitrov vs Nishikori
The final was an entirely different affair. Against Raonic, Dimitrov was seeking ways to blunt the Canadian's power. Against Nishikori, Dimitrov was the player with the greater firepower. In many ways this was almost a mirror of the previous match but with the roles reversed. The problem for Kei is that Dimitrov's game is far more complete than Raonic's, and Grigor is a better mover as well.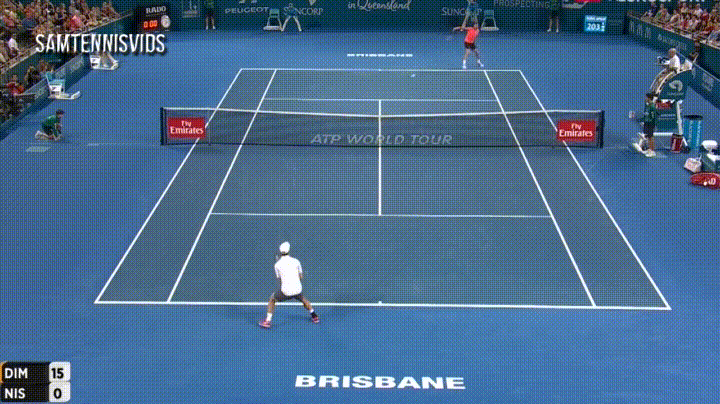 This point summarizes the difference between Nishikori and Raonic perfectly. Dimitrov follows the exact same pattern as against Raonic, but Kei uses the slice forehand to extend the point. Nishikori then makes the pass to win the point. A different challenge indeed! Highlighting just how far he's come, Dimitrov had a solution to the Nishikori problem.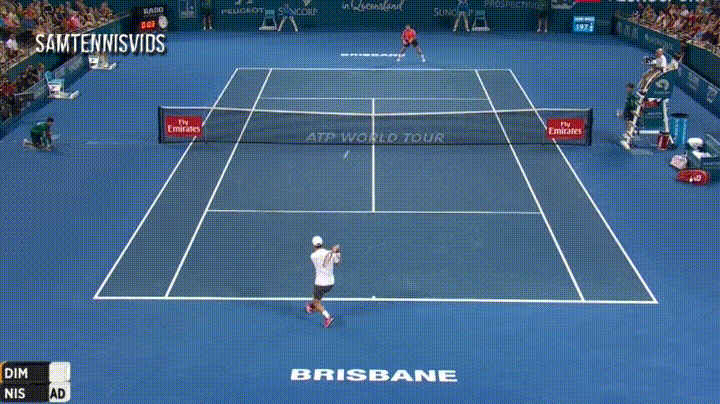 Dimitrov used his forehand to dictate play, driving the ball hard and deep. Grigor also hit over far more of his backhands against Nishikori than he did against Raonic. Doing so allowed Dimitrov to push Nishikori deeper in the court, further controlling play.
The Importance Of The Serve
Whether Dimitrov can sustain this level of play remains to be seen. In the end it will ultimately come down to one simple thing: how well he serves. Through the end of Rotterdam, Dimitrov was making 66% first serves for the year, and had served a whopping 167 aces. Making such a high percentage of aggressive first serves puts Dimitrov in control of the point early, allowing him to use his weapons. It is in large part this which has allowed Grigor to play more freely on the return of serve particularly on his opponent's second serve.
Conclusion
Dimitrov is here to stay. The changes we are seeing in his tactical approach to the game right now are not temporary. Indeed Dimitrov's partnership with Vallverdu seems to be a lasting one. Vallverdu said this when he took the role last year:
"When I agreed to work with Grigor, I accepted that this as a long-term project. I believe a lot in this project and I am confident that with sustained effort, we can achieve a lot. I am willing to be in a long partnership."
With this kind of targeted, adaptable play Dimitrov has the tools and athleticism to be a genuine title threat at every single tournament he plays. It is no longer a question of if Dimitrov will win a Grand Slam title. The question now is simply how many he will win.